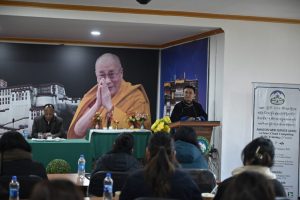 Source: Tibet.net
Dharamshala: As part of its initiatives to empower Tibetan youths, the Department of Home's Youth Empowerment Support (YES) desk organised an Amazon Web Service (AWS) re/Start Cloud Computing skill training in collaboration with Natio Cultus Consulting LLP (affiliated with Orbit Future Academy, Indonesia) at the Administrative Training & Welfare Society based in Dharamshala. The training's inaugural was kicked off earlier this morning in attendance of the event's chief guest, Secretary Palden Dhondup, from the Home Department, Central Tibetan Administration.
The ceremony was also attended by Additional Secretary Tenzin Norbu, trainer Dipanshu Rai, 25 participants and the facilitators from the Department of Home.
Following the introductory remarks from Yeshi Tenzin, a staff at YES section, on the training's objective and the positive outcomes from the precedent training held last year, the participants of the 2nd AWS training introduced their names and educations backgrounds at the gathering. The inaugural was also addressed by two participants of the previous training to exchange their respective experiences with the second batch.
Sharing his experiences of working in the field at length, the trainer for the twelve-week (2 weeks offline & 10 weeks online) training, Dipanshu Rai, presented his course schedule to the attendees amassed at the training centre's Thonmi auditorium. He further reminded the partakers of their state, saying, "you are no longer in college; you are now in the market" while imploring them to put their efforts and dedication into learning from the training.
Secretary Palden Dhondup, the event's chief guest, apprised the benefits of online working space to the participants. Calling for dedicated efforts in making the training fruitful, he urged trainees to quench their doubts through constant interaction with the trainer. Furthermore, he recalled the immense contributions of His Holiness the Dalai Lama in providing and materialising all the opportunities that the younger generations enjoy before closing his talk.
The inaugural ceremony was concluded with a vote of thanks from Additional Secretary Tenzin Norbu. The program is funded by USAID through Tibet Fund.