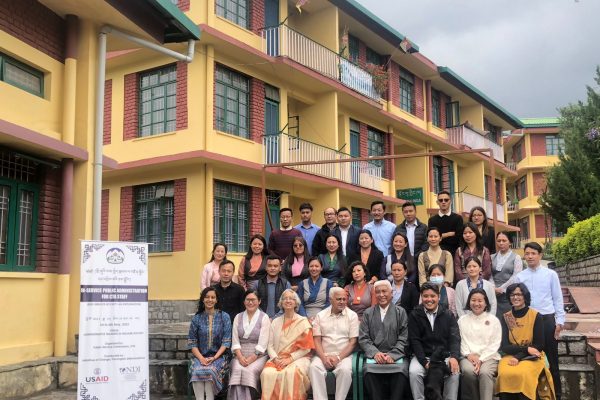 Source: Tibet.net
Dharamshala: The Public Service Commission is convening a 6-day workshop for CTA staff on the theme of "Self-Service-Society: An Exploration" at the Administrative Training Centre from 1-6 May 2023. The inaugural ceremony held today was attended by the Chairman of the Public Service Commission Wangdu Tsering Pesur, Secretary Tsering Yangkey, and the team from Initiatives of Change, Panchgani, Maharashtra.
Chairman of the Public Service Commission Wangdu Tsering Pesur delivered the keynote address, noting that this was the continuation of the previous workshop organised by the PSC which would help the participants in overcoming the challenges of the world. He reminded participants to uphold genuine concern for the well-being of others as reiterated constantly by His Holiness the Dalai Lama. He concluded by expressing hope that everybody would make the most out of this experience.
Secretary Tsering Yangkey of the PSC, similarly expressed her hope that participants would maximise the learnings from the training and thanked the Initiatives of Change. She shared her personal experience of attending the session on nurturing souls as one of the most impactful tools to change one's thoughts and behaviour.
Trainer Leena Khatri expressed her respect and gratitude to His Holiness the Dalai Lama and Tibetan followers for their contributions to India. She expressed admiration for the leadership of His Holiness not just to the Tibetan community but to the whole world through his teachings and interactions. She also spoke on the special connection between His Holiness the Dalai Lama and the Initiatives of Change formed by the seniors of the organisation who were among those that had welcomed His Holiness's arrival in India.
Trainer Suresh Khatri commended the tireless effort of His Holiness to advocate global peace and non-violence that has invariably shaped the world's perception of Tibetan people. He also spoke about the man-made problems facing the world today that he pointed out can be rectified by correcting the past and becoming an active agent for change.
The training funded by USAID and NDI was participated by 25 CTA staff.